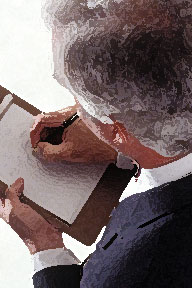 The agenda should include all items to be discussed along with the amount of time to be devoted to each. It should be written so that the most important items are handled first, in case the meeting runs short. Make sure that everyone has a copy of the agenda well in advance of the meeting.
Here is a sample agenda:
TO: Marketing and public relations staff
FROM: Chairman's name
PURPOSE: Meeting, Wednesday, February 28, 2–4 P.M.
(If the meeting is to take place at mealtime, such as 8–10 A.M., or during lunch or dinner, say something like "Sandwiches and beverages will be provided.") PLACE: Conference room, 10th floor AGENDA:
Review quarterly goals and action plan (30 minutes)
Summary by public relations director on achievements

Report by publicity assistant on upcoming media coverage
Discuss upcoming media opportunities (15 minutes)
Establish priorities for next six months (10 minutes)
Open discussion (20 minutes)
Conclusion, summary, and action plan assignments (20 minutes)